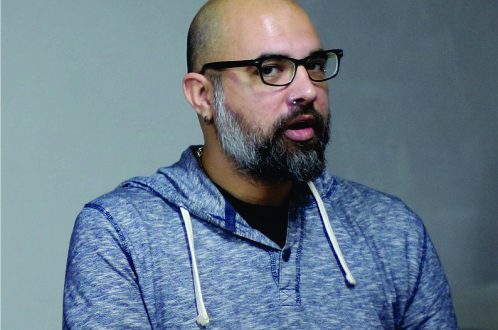 Stanimir Panayotov (1982, Sliven, Bulgaria) holds a BA in Philosophy from Sofia University (Sofia, Bulgaria) and MA in Philosophy and Gender Studies from Euro-Balkan Institute (Skopje, North Macedonia), and has defended his Ph.D. in Comparative Gender Studies at the Central European University (Budapest, Hungary), with a specialization in Medieval Studies, titled The Problem of Disembodiment: An Approach from Continental Feminist-Realist Philosophy. He works at the intersections of continental and feminist philosophy, non-philosophy, late antique philosophy and new/speculative realism, and has specialized in these fields at Institute of Philosophy, Slovenian Academy of Sciences and Arts, Ljubljana (2013); Institute of Social Sciences and Humanities – Skopje (2015); Linköping University (2016); American Research Center in Sofia (2016/17); Center for Research in Modern European Philosophy, Kingston University, London (2017); Utrecht University (2018). Panayotov has taught at Euro-Balkan Institute (North Macedonia), Central European University (Hungary) and Al-Quds Bard College for Arts and Sciences (Palestine), and has lectured internationally at various institutions and festivals. Co-director and co-organizer of Sofia Queer Forum (Sofia, 2012-present), as well as Summer School for Sexualities, Cultures and Politics (Skopje/Belgrade, 2012-2017). He has editorial and publishing experience with the publishing projects Anarres and Collective for Social Interventions (Sofia, 2012-2017). Panayotov has worked as a Junior Researcher at Institute of Social Sciences and Humanities – Skopje, and since 2017 is the editorial manager of Identities: Journal for Politics, Gender and Culture, as well as editorial board member of Oraxiom: A Journal of Non-Philosophy. He has translated into Bulgarian books and texts by authors such as Wendy Brown, Judith Butler, David M. Halperin, McKenzie Wark, Jasna Koteska, to name a few; and intermittently writes about contemporary art practices and theories, as well as experimental music.
Recent and ongoing publications:
O-Zone: Object-Oriented Studies (contracted with Punctum Books, New York City, forthcoming in Fall 2020).
[with Daniel Lukes] Black Metal Rainbows (contracted with PM Press, Oakland, California, forthcoming in Spring 2021).
"Disembodiment: A Continental Feminist-Realist Approach." In Alexander Kanev (Ed.), The New Realism (Sofia: Sofia University Press, 2019), 253-277.
[with Katerina Kolozova] "An Atomist Genealogy of New Materialism." In Felicity Colman and Iris van der Tuin (Eds.), European New Materialisms (Edinburgh: Edinburgh University Press, forthcoming in 2020).
"Non-Philosophical Education with 'Philosophical Materials': The Intersectional Procedures of Non-Philosophy." In Nina Lykke et al. (Eds.), New Tools for Transnational Analysis in Intersectional Feminist Research (London and New York: Routledge, forthcoming in 2020).
"The Dissemination of Capital, Vols. 1-3 in Bulgaria." In Marcello Musto and Babak Amini (Eds.), Routledge Handbook of Marx's Capital: A Global History of Translation, Dissemination and Reception (London and New York: Routledge, forthcoming in 2020).