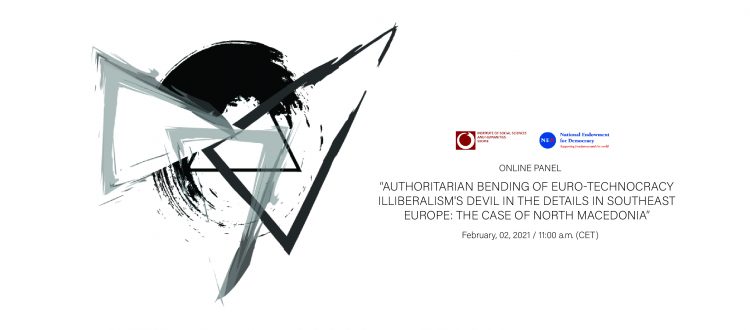 Online Panel Discussion "Authoritarian Bending of Euro-Technocracy Illiberalism's Devil in The Details in Southeast Europe: The Case of North Macedonia"


The Institute of Social Sciences and Humanities – Skopje invites you to an
Online Panel Discussion
on the topic
"Authoritarian Bending of Euro-Technocracy Illiberalism's Devil in The Details in Southeast Europe: 
The Case of North Macedonia"
with
Florian Bieber
Director of the Centre for Southeast European Studies at the University of Graz, Austria
Harun Cero
Political Scientist with a focus on Southeast Europe/Journalist,
Aleksandar Krzhalovski
Director of the Macedonian Center for International Cooperation
and
Niccolò Milanese
Director of European Alternatives
moderated by
Gordan Georgiev
Assistant Professor at the Institute of Social Sciences and Humanities – Skopje
on
February 2, 2021 from 11:00 – 13:30 CET.
This online debate is part of the project "New challenges in the overcoming of 'democratic backsliding' in North Macedonia: 'State capture' and 'illiberal democracy' revisited in an emerging context," supported by the National Endowment for Democracy. This project continues ISSHS' effort to work on "de-capturing" the state institutions by working on projects aimed at depolarizing, creating assumptions for wider social reconciliation, as well as combatting the populist and illiberal tides in Macedonian society. Given the fact that North Macedonia is expected to start the process of negotiations with the European Union and keeping in mind that the first negotiating chapter covers precisely these areas of judiciary and European fundamental rights, it is the right time to monitor and raise awareness as to whether the legislation and its implementation indeed subscribes to the key values of the European Charter of Fundamental Rights. One of the principles – if not the core principle – expressed in the preamble of the Charter is that it places the individual at the heart of its activities, by establishing the citizenship of the Union and by creating an area of freedom, security and justice.
If you would like to register for this online event, please click here.
The online discussion will be held in English.
Please note that only registered participants will receive the dial-in details via e-mail ahead of the event.
It would be a pleasure to welcome you at this virtual event.