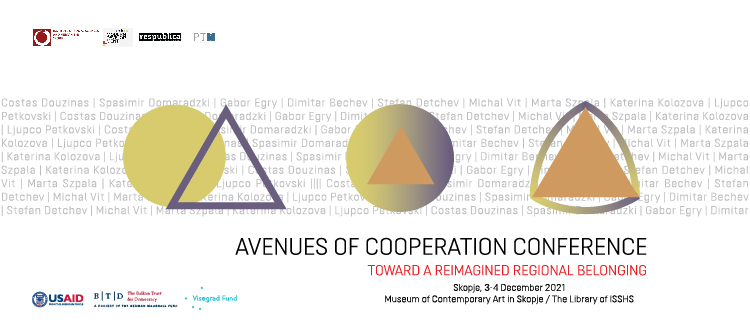 Avenues of Cooperation Conference: Toward a Reimagined Regional Belonging
On 3-4 December 2021, the Institute of Social Sciences and Humanities – Skopje in cooperation with the Visegrad Fund and Balkan Trust for Democracy organizes the Avenues of Cooperation Conference: Toward a Reimagined Regional Belonging. The conference is a part of the project Avenues of Cooperation (more info at: https://www.isshs.edu.mk/avenues-of-cooperation-project/)
At the two-day event, scholars and public intellectuals from North Macedonia, Bulgaria, Greece, the Czech Republic, Hungary, Slovakia and Poland, will debate, and through a combined approach of research and advocacy, seek to find a solution to the cultural conflict between the Macedonian and the Bulgarian state related to their respective nation-building narratives which has caused a stalemate in the Union's enlargement process blocking the next step of North Macedonia's accession to the European Union. The conference is part of a more complex project initiative which seeks to understand the conflict, offer possible solutions to it, and build bridges of academic and civil society cooperation that will contribute to a sustainable overcoming of the problem at hand.
The speakers at the conference include:
• Katerina Kolozova, Senior Researcher/Full Professor, ISSH-Skopje
• Costas Douzinas, Professor at the Birkbeck University in London and President of the Nicos Poulantzas Institute in Athens
• Spasimir Domaradzki, Ass. Professor at University of Warsaw and member of the editorial board of Res Publica Nova
• Gábor Egry, Director at the Institute of Political History-Budapest
• Michal Vit, Professor at Metropolitan University Prague and a senior fellow and Director of the Institute of Modern Development in Prague
• Marta Szpala, Senior Fellow in the Centre for Eastern Studies in Warsaw and Coordinator of the Think Tank Forum during the Polish presidency in the Berlin Process.
• Dimitar Bechev, ISSH-Skopje visiting faculty/Oxford University
• Stefan Detchev, Prof., ISSH-Skopje visiting faculty/ /South-West University of Blagoevgrad
• Ljupco Petkovski, ISSH-Skopje visiting faculty
At the link below is the conference program with more details.
If you want to follow the event through the ZOOM platform, please send us confirmation message at: info@isshs.edu.mk or register through this link: https://forms.gle/7BRjrUxUCX6F3MwCA (no later than November 30) and you will be provided with a direct link, not later than three days prior to the conference.