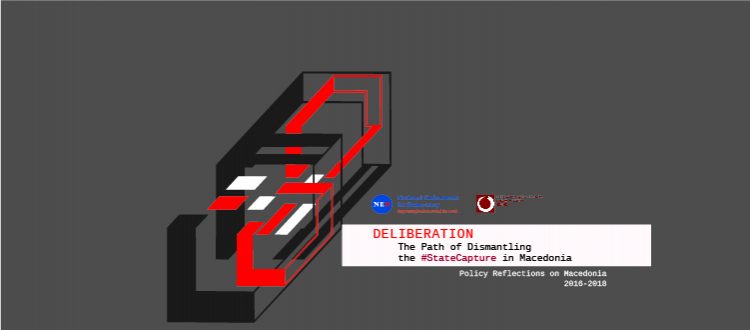 DELIBERATION: THE PATH OF DISMANTLING THE #STATECAPTURE IN MACEDONIA. Policy Reflections on Macedonia 2016 – 2018
From the Executive Summary of the position paper titled: "A House Ready to Crumble? Putting Back the Building Blocks of Macedonia's Parliamentary Democracy" . The publication is available for download on the link below 
Prior to the "captured state," a tag that Republic of Macedonia received amidst the prevalent non-democratic practices of Nikola Gruevski's Government, the state was already captured by a tacit consensus between the country's major political parties regarding the architecture of the political system. Namely, Republic of Macedonia has an electoral system that favours the big four (the two dominantly ethnic Macedonian parties plus the two ethnic Albanian parties), garnished with a variety of small ethnic-based and/or issue-based parties predestined to enter big pre-electoral coalitions, a proportional closed-list electoral model with six electoral districts, and an extremely strong allegiance of MPs to the parties' headquarters.
The results of such a tacit consensus proved devastating for Macedonia's parliamentary democracy, creating extremely strong political parties, weak MPs, and permanent parliamentary crises with quasi-regular parliamentary boycotts. The locus of power was to be moved away from the Parliament to the semi-official party leadership meetings, whereas the parliament itself has become subjected to the predominant control of the executive branch (the Government) over the parliamentary majority and virtually nonexistent endogenous debate at the Parliament's plenary sessions or in the Committees.
Rather than tackling the day to day crises of the parliament's functioning, we propose a debate on the structural predispositions for forging a consensual model that could sustainably resolve (and not only fix) the virtually permanent parliamentary blockade and bring the Parliament at the forefront of the democratic deliberation and promote it as an efficient check of the executive branch.
This position paper gives several hints on the possible sustainable solutions, provided they are tackled simultaneously. These solutions consist of strengthening and enhancing political parties' internal democratic procedures (which are difficult to tackle, and yet there are some positive, promising prospects announced both by VMRO-DPMNE and SDSM), slight but substantial change of the country's electoral system (we propose a proportional closed-list representation with one electoral district and no threshold for the entry into the parliament, a model that was announced by the now ruling SDSM party), and strengthening MPs' individual capacity for deliberation by increasing the oversight role of the Parliament and a greater citizens' role (civil society organizations and individuals) in co-devising public policies with the Parliament.
Naturally, past experience teaches us that we should be extremely cautious about the realistic prospects of such major developments regarding the country's political structure and its electoral model. Nevertheless, the current parliamentary deadlock (and the future ones to come on the horizon) give merit to the thesis that it is better to open a thorough debate sooner than later, rather than just to perpetually fix the small holes in the house ready to crumble.
Deliberation The Path of Dismantling the #StateCapture in Macedonia