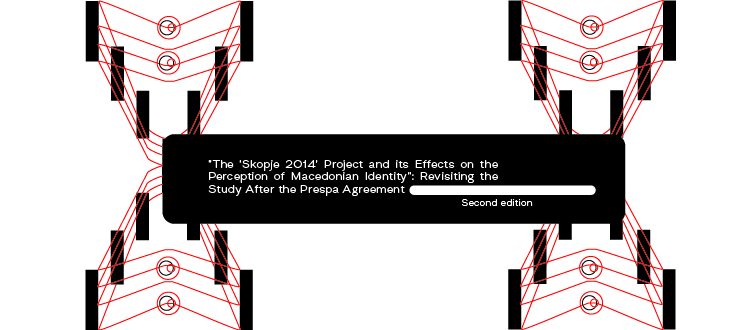 "The 'Skopje 2014' Project and its Effects on the Perception of Macedonian Identity": Revisiting the Study After the Prespa Agreement (Second edition)
Extract from the study:
In order to explain the diplomatic complexity made simple and legally elegant in the form of the agreement of Prespa/Prespes, i.e., the document settling the decades long "name dispute" between (now) North Macedonia and Greece, one has to look at the multiple and sensitive identity related stakes involved in the solution. The Agreement was signed in June 2018, by the Syriza led government of Greece and the Social-Democratic ruling coalition of what was then the Republic of Macedonia. In spite of the decades long mantra of the so-called international community, including the UN, EU and NATO, that the dispute and its solution would not affect any questions concerning the identity of the ethnic majorities of either of the nations, as they are non-negotiable rights to self-determination, it has always been clear that the dispute existed because of Greece's concerns over its cultural and historical heritage being appropriated. It was an unequivocally declared position on the part of the Greek government displayed on the website of the Hellenic Ministry of Foreign Affairs prior to the signing of the agreement (titled "FYROM Name Issue"). Macedonia – after the agreement renamed "Republic of North Macedonia" – had been worried, at least a sizable part of its public, that its national identity would be effaced through the name change. Thus, the embarrassing truth was not to be avowed, at least not by the respectable leadership of the developed world. However, the truth about identity concerns was intimated through the fact that the longest serving UN envoy, assigned with the task of solving the issue, Matthew Nimetz, habitually proposed not only a new name for the state (of the "Republic of Macedonia", its constitutional name until 12 February 2019), but also solutions to the adjectives that concerned the nationality and the language. The adjectives were to be derived either from the name of the state or to be avoided entirely, something along the lines of "citizen of…." or "the official language of…" followed by the possible new name of the country. The novelty of the solution stems from the fact that both countries and their leaders decided to acknowledge, instead of disavow, the fact that the stakes were identitary: Greece was worried that its Hellenic heritage is being appropriated by the "Macedonian" identity of its northern neighbors, whereas the Macedonian public and its politicians were worried that the identity "Macedonian," in its contemporary sense, would cease to exist. These not easily solved concerns were tackled in a nuanced fashion by both parties, resulting in the Prespa Agreement. Let us take a look at a several years old study conveying the identity perception of the Macedonians in 2013, and how it may have been affected by the Agreement.
"The 'Skopje 2014' Project and its Effects on the Perception of Macedonian Identity": Revisiting the Study After the Prespa Agreement