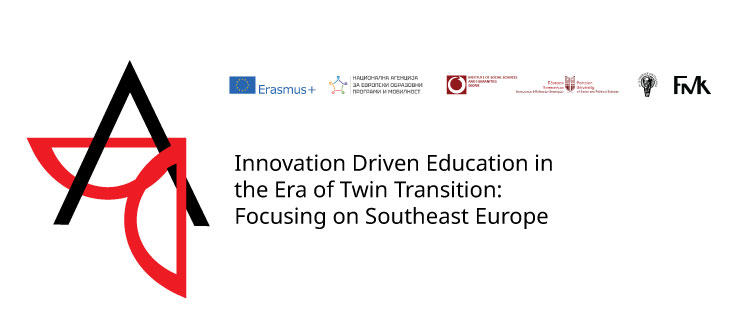 INNOVATION DRIVEN EDUCATION IN THE ERA OF TWIN TRANSITION: FOCUSING ON SOUTHEAST EUROPE
"Innovation Driven Education in the Era of Twin Transition: Focusing on Southeast Europe" is an Erasmus supported project under the KA2 HED Action: Cooperation and Partnerships in Higher Education. The leader is the Institute of Social Sciences and Humanities-Skopje with its partners: Panteion University-Athens, FMK at Singidunum University-Belgrade and Sofia University "Kliment Ohridski" through the years 2022-2024.
The focus on the project are the issues of digital democracy and inclusiveness, innovation based economy and the ability to transpose academic knowledge onto the policy analysis and advocacy. Integrative interdisciplinarity between SSH and STEM in order to effectively address climate emergency through societal change.
One of the project activities was the methodology workshop "Economics in an Era of Automated Labor: European Perspectives, Interdisciplinary Methodology of Approaching Teaching Contents Concerning Economy and Digitalization". You can find more info about the workshop at the following link: