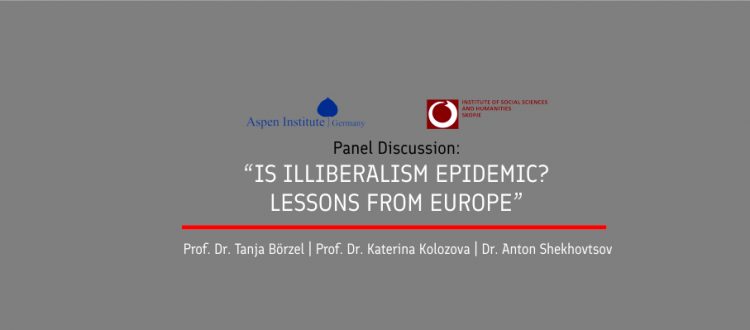 Panel Discussion: "Is illiberalism epidemic? Lessons from Europe"
We are proud to announce the Panel Discussion titled "Is illiberalism epidemic? Lessons from Europe". The event is co-organized by Aspen Institute in Berlin and the Institute of social sciences and humanities, Skopje. The panel will take place on 19 March 2019 in Berlin, at Friedrichstraße 60.
Prof. Dr. Tanja Börzel, Professor of Political Science and Director of the Cluster of Excellence "Contestations of the Liberal Script", Chair for European Integration at the Otto-Suhr-Institute for Political Science of the Freie Universität Berlin, Prof. Dr. Katerina Kolozova, Executive Director at the Institute of Social Sciences and Humanities in Skopje, and Dr. Anton Shekhovtsov, Research Associate at the Institute for Euro-Atlantic Cooperation in Kiev, will discuss the rise in popularity of the anti-liberal discourse among the far right and far left parties in Europe as well as populism as rhetorical-ideological orientation.