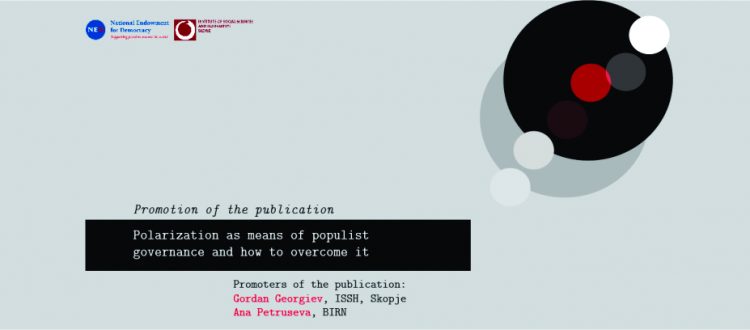 Polarization as Means of Populist Governance and How to Overcome It
The Institute of Social Sciences and Humanities – Skopje is pleased to invite you to the promotion of the publication "Polarization as Means of Populist Governance and How to Overcome It: Analysis based on the Macedonian case of socio-political efforts to overcome 'state-capture' as chief means of governance" which will be held on October 17th (Thursday), 12:00 p.m. in the Institute`s premises (St. 20 Oktomvri, No. 8, second floor, Skopje. Map to the location: https://tinyurl.com/y25f7s48).
The publication is a result of multiannual monitoring and analysis of "state-capture" in Republic of North Macedonia, populist outbursts of political elites, mobilization of populist discourse in creation of political enemies, emotion manipulation and creation of divisions in the public sphere (media, social networks etc.). The publication is analytical and factographic attempt to deal with the phenomena of populism and discursive creation of the political Other.
Promoter of the publication will be Gordan Georgiev, PhD, project manager and Ana Petruseva, director of Balkan Investigative Reporting Network (BIRN) Macedonia will make her comments in the discussion.
This publication also represents a closing document of a project that the Institute has realized last year in cooperation with National Endowment for Democracy (NED) with main focus in the fields of reconciliation, transitional justice and depolarization of the public discourse.