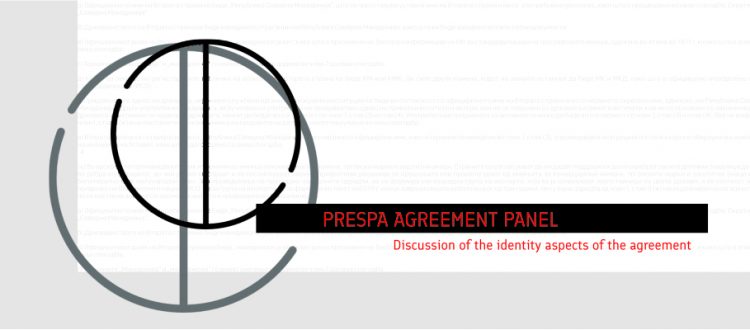 The Institute of Social Sciences and Humanities – Skopje is pleased to invite you to the event- "Prespa Agreement Panel. Discussion of the identity aspects of the agreement." The event will be held on September 14th (Friday), 2018 at 19 h. in the GEM Club in Skopje.
The panel aims to critically review all the aspects of the Agreement that require multidisciplinary expertise. Each speaker will offer contribution based on his/her professional and scientific background towards the consideration of cultural, political and philosophical identity issues related to the Agreement, as well as the legal and international relations` aspects of the agreement.
Panelists:
– Prof. Dr. Katerina Kolozova (ISSHS)
– Dr. Akis Gavriilidis (Collectif Manifestement – Belgium)
Introduction / Moderator: Prof. Dr. Gordan Georgiev (ISSHS)
For the panelists:
Katerina Kolozova is a director of the Institute of Social Sciences and Humanities- Skopje, professor of gender studies at the University American College- Skopje and a visiting professor at several faculties from the ex-Yugoslav states and Bulgaria. Kolozova has been a postdoctoral research fellow at the University of California- Berkeley, under peer supervision of prof. Judith Butler. Her work includes numerous international studies in the field of gender studies and political philosophy. Kolozova is one of the founders of the Regional Network of Gender Studies in Southeast Europe, an author of "The Cut of the Real: Subjectivity in Poststucturalist Philosophy," NY: Columbia University Press: 2014, "Toward a Radical Metaphysics of Socialism: Marx and Laruelle," (Brooklyn NY: Punctum Books, 2015) and a co-editor of "After the 'Speculative Turn:' Realism, Philosophy and Feminism," (Brooklyn NY: Punctum Books 2016). She has also authored several chapters in edited volumes on political philosophy published by Edinburgh University Press, Bloomsbury University Press, Rowman and Littlefield, and others.
Akis Gavriilidis, born in Thessaloniki, Greece in 1964, is a writer and translator who is currently living in Brussels, Belgium. Gavrilidis has studied Law in Belgium, completing his PhD in 1998 in philosophy of law and his postdoctoral studies in political anthropology. He is a member of "Collectif Manifestement" from Brussels and a contributor to the publication "Manifeste du dégagisme" (Maelström, Bruxelles 2012). Gavrilidis publishes and translates writings for numerous printed and online magazines. Some of his publications (in Greek) include: "Democracy against liberalism. The notion of natural law in Spinoza" (Athens, 2000), "The incurable necrophilia of radical patriotism." Ritsos-Elytis-Theodorakis-Svoronos (Athens, 2006), "The continuation of the civil war with other means" (Athens, 2007), "In a world of authenticity we are all strangers" (Thessaloniki, 2007), "Billy Wilder: the (self-)criticism of the Hollywood spectacle" (Athens, 2009), "We settlers. The nomadism of names and the pseudo-state of Pontus" (Yànnina, 2013). In English:" Grexodus: Notes for a Non- Strategic Strategy" (LAP Lambert Academic Publishing, 2015), and writings in many international collection of essays.
Gordan Georgiev has been active in the civil sector for 20 years. Georgiev was an Executive Director of Forum-CSRD, one of the leading think tanks in Macedonia, and a Director of the Macedonian School of Politics, under the auspices of Council of Europe and part of the regional network of Schools of Politics comprising 15 countries from the Balkans, Russia and CIS. He holds a BSc and MSc from the Institut d'Etudes Politiques de Paris, France, in Political Science and International Relations, and has obtained an M.A. in European Studies from King's College London. In 2009 he accomplished the Harvard Executive Education program. Georgiev obtained his PhD in political sciences in 2016, conducting research on societal system theories and structures of power. Except his contributions in many regional and international journals, Georgiev is a contributing author in "Problems of Representative Democracy in Europe" ed. by Jan Marius Wiersma (2014, Vangennep Amsterdam) and in "Reshaping the image of the political parties in SEE" ed. by Georgi Karasimeonov (2007). From 2009 to 2013, Georgiev acted as an MP in the Assembly of the Republic of Macedonia (SDSM), in addition to chairing the Committee on Culture.
There will be Simultaneous translation provided (from and into English) for the panel.
To confirm your attendance, please e-mail to info@isshs.edu.mk or call us at +38923113059.