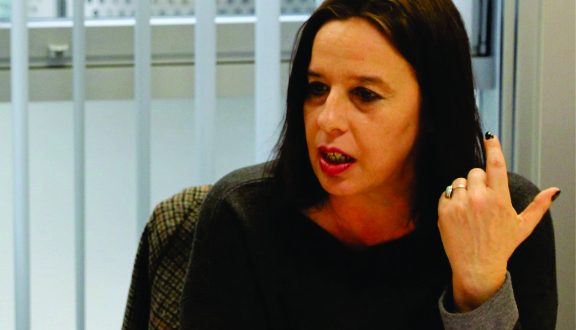 Katerina (Katarina) Kolozova, PhD. is the director of the Institute in Social Sciences and Humanities-Skopje and a professor of philosophy, epistemology and gender studies at ISSHS and also at the University American College, Skopje and a visiting professor at Arizona State University-Center for Philosophical Technologies. She is also visiting professor at several universities in Southeastern Europe, most notably at the Department of Political Studies of FMK-Belgrade. In 2009, Kolozova was a visiting scholar at the Department of Rhetoric (Program of Critical Theory) at the University of California-Berkeley, under peer supervision of prof. Judith Butler. Katerina Kolozova was a Columbia University NY-SIPA Visiting Scholar at its Paris Global Centre in 2019 working on issues of authoritarianism and feminism in Europe. Author of the books: Cut of the Real: Subjectivity in Poststucturalist Philosophy (Columbia University Press, 2014), Toward a Radical Metaphysics of Socialism: Marx and Laruelle (Brooklyn New York: Punctum Books, 2015), After the 'Speculative Turn': Realism, Philosophy, and Feminism (co-author, Brooklyn New York: Punctum Books 2016) and Capitalism's Holocaust of Animals: Non-Philosophical Critique of the Automata of Capital and Patriarchy (London UK: Bloomsbury Academic, 2019). Her articles and chapter published in the last few years are: Chapter 9 "Poststructuralism" in the Oxford Handbook for Feminist Philosophy (Oxford UK: Oxford University Press, 2021) and Kolozova, Katerina (2023). "The Ebb of the Old Liberal Order and the Horizon of New Possibilities for Freedom," In Adrian Parr & Santiago Zabala (eds.), Outspoken: A Manifesto for the Twenty-First Century (Toronto CA: McGill-Queen's University Press), pp. 39-46. She is also the author of numerous interdisciplinary policy studies dedicated to the issues of "illiberal democracy," partocratic mechanisms of state-capture in "hybrid regimes," policy critique of repressive technocracy in the legislation of the authoritarian neoliberal post-socialist states in Europe.
Click the read more button for more info on Prof. Kolozova's scientific applied research and advocacy engagement with the topics of "illiberal democracies", democratic backsliding and "state capture" in soft authoritarianism:
Katerina Kolozova (PhD) has been engaged in scientific policy analysis of the rise of authoritarianism in national and regional (SEE) context as well as that of wider Europe. She has acted as the research team leader of ISSH-Skopje on a number of studies on the authoritarian state capture that used to define the governance of the previous ruling coalition as well as in analytical monitoring of the country's attempts toward "de-capturing." These publications have been ranked among the top 5 most sought for policy studies from the country on the Central and Eastern European Online Library (based in Germany). Together with Niccolo Milanese (European Alternatives-Paris) she coedited an international volume on "illiberal democracies" forthcoming with McGill Queen's University Press (Canada). Along with Ivan Vejvoda, she is the co-organizer of two workshops in 2019 and 2020 on illiberal democracy and democratic backsliding in the region and in Europe at  Institut für Wissenschaften vom Menschen-Vienna (in cooperation with ISSHS), one in Berlin with Aspen institute and Freie Universitaet (Political Sciences) in March 2019 as well as one in Paris with Europa Nova think tank of SciPo in October 2019. She has co-authored a couple of op-eds for Open democracy on this topic, the most recent one being on the crisis of liberal democracies and the authoritarian abuse of the pandemic published in April 2020.
Email: katerina.kolozova@isshs.edu.mk
Phone/Fax: +389 2 3113 059