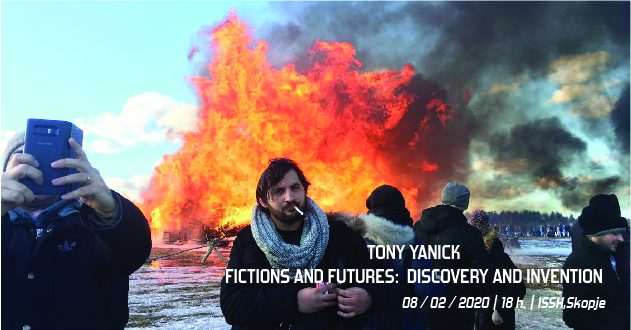 Tony Yanick at ISSH,Skopje
It is our pleasure to announce the first public lecture in 2020 at the Institute of Social Sciences and Humanities, Skopje. Antony Yanick will discuss topics of contemporary epistemology, film and AI under the title "Fictions and Futures: Discovery and Invention". The lecture is focused more closely on the "epistemology of integrated objects" as developed by Anne Françoise Schmid as well as on generative knowledge (worlds, artificial intelligence). The event will be held at the premises of the Institute on February 8th (Saturday), at 18.00.
Antony Yanick is an engineer, philosopher, film author, co-convener of the New Centre for Research and Practice http://thenewcentre.org/ . You can find his detailed bio in the link below
http://strelka.com/en/education/people/tony-yanick
Those interested in the lecture can confirm their attendance either by email at info@isshs.edu.mk or by phone at 02/ 3113 059.