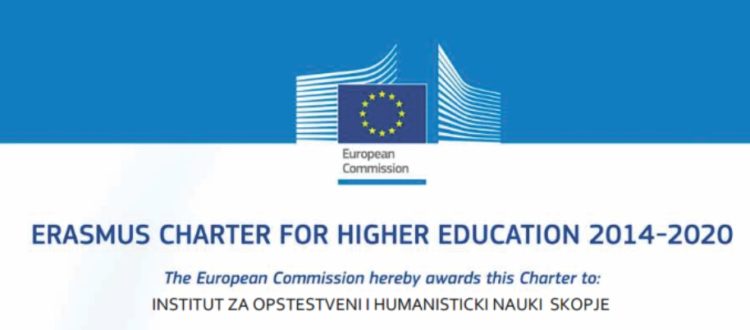 European Commission Awards the Erasmus Charter to ISSHS (2014 – 2020)
ISSHS part of the European Charter of Higher Education institution: European Commission awards the Erasmus Charter 2014-2020 to ISSHS
INSTITUTE OF SOCIAL SCIENCES AND HUMANITIES, SKOPJE
ERASMUS POLICY STATEMENT (updated version Spring 2016)
The Institute of Social Sciences and Humanities from Skopje is committed to the long terms goals of the EU Modernisation and Internationalisation Agenda for Higher Education, and to the philosophy and the overarching aims of the Erasmus Charter for Higher Education.
We believe that higher education serves to critically reflect upon our social and economic realities and to reinvent their possibilities by way of forging new horizons of scientific, theoretical and academic vision. The transformative relationship to the current social and economic realities should be grounded in scientific rigor, applied research and reliable data. In other words, scientific innovation in the social sciences and humanities and the applied and policy oriented research are integrally linked with the higher education. This is the philosophy and the core policy statement of the Institute of Social Sciences and Humanities, Skopje. We are committed to international excellence which is fosterd through fora such as summers schools (in political sciences, philosophy, and other, primarily interdisciplinary areas), numerous academic internships of young researchers from throughout Europe, symposiums, international publications including the journal "Identities," and other forms of collaboration.
Our international partnerships are also endorsing the main value pillars of the Erasmus program, namely staff and student mobility, innovation in teaching and learning, research and innovation combined with advanced capacity-building for the faculty and staff.
We are fully compliant with the European Credit Transfer System in line with the legal requirements of the country and the relevant legal documents of the European Union. The procedural details concerning recognition of degrees and credits are laid out in the "Rulebook of the Scientific Council" of ISSHS (currently available in Macedonian only on our website). The same goes for all academic decision making procedures.
ISSHS is committed to an inclusive society and to the equity of students and faculty in staff regardless of their gender, ethnicity, color, sexual orientation, and physical or other challenges they might be facing.
In all our activities, both national and international, we carry out result based progress monitoring and evaluation according to clear sets of milestones. We conduct constant peer-reviewing of our research and teaching quality and self-evaluation as methods of quality assurance and enabling public accountability.
We remain focused on deepening the existing partnerships and engaging into new ones via the Erasmus+ mobility schemes.
The programs we are offering are regularly calibrated with the needs of the labor market. This focus, however, does not prevent the curriculum and the teaching style to also be innovative, experimental critical and beyond mere skills-based capacity building.
Academic decision making processes at the Institute of social sciences and humanities – Skopje
П Р А В И Л Н И К ЗА ОПРЕДЕЛУВАЊЕ, ПРЕСМЕТУВАЊЕ НА КРЕДИТИ (ЕКТС) И ПРЕМИНОТ ОД ЕДНА НА ДРУГА СТУДИСКА ПРОГРАМА, ОДНОСНО ОД ЕДНА НА ДРУГА ВИСОКО ОБРАЗОВНА ИНСТИТУЦИЈА