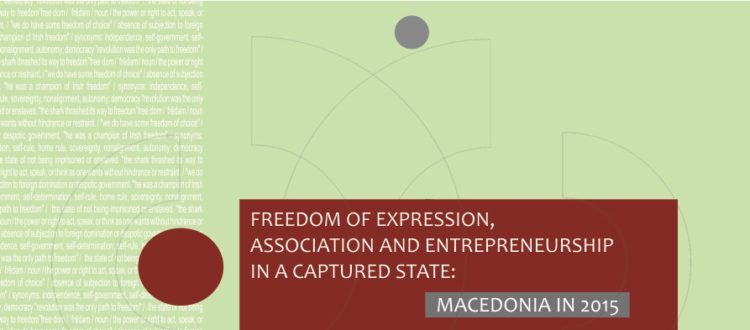 FREEDOM OF EXPRESSION, ASSOCIATION AND ENTREPRENEURSHIP IN A CAPTURED STATE: MACEDONIA IN 2015
We are presenting the study: " Freedom of expression, association and entrepreneurship in a captured state: Macedonia in 2015." This study is a segment from the project "Analyses of the policies and laws that affect the freedom of expression," supported by USAID and FOSIM.
The respective study is analyzing the laws and policies that restrict the freedom of expression and association. The main focus is on the areas of education, media, union association and strike, as well as on economic freedoms and their impact on small and medium sized enterprises.
The study also includes case studies that are providing in-depth analysis of the implementation of the regulations and the effects of their implementation.
The study can be downloaded on the following link:
Freedom of expression, association and entrepreneurship in a captured state: Macedonia in 2015