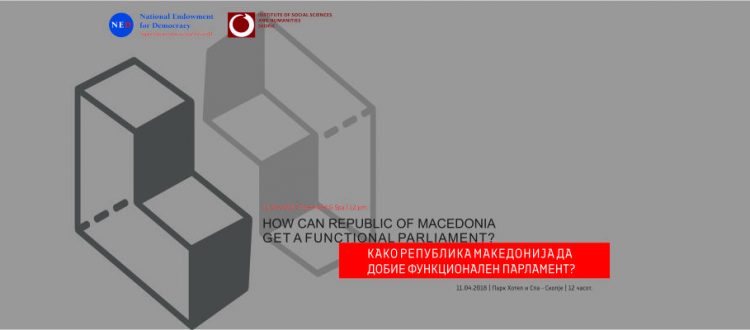 How can Republic of Macedonia get a functional parliament?
The Institute of Social Sciences and Humanities – Skopje on April 11, 2018 (Wednesday) / 12 pm. at Park Hotel & Spa is organizing the discussion "How can Republic of Macedonia get a functional parliament?". The invited speakers are: Nenad Markovikj (IDSCS), Frosina Remenski (SDSM), Vlatko Gjorchev (VMRO DPMNE) and Xhevat Ademi (DUI/BDI), while the moderator will be Gordan Georgiev (ISSHS).
The purpose of the discussion is to encourage wider social debate for the functionality of the Parliament of Republic of Macedonia, which is also related to the recommendations of the Senior Experts' Group on systemic Rule of Law issues (Priebe). The event aims to cover the possible solutions for emancipation of the legislative branch from the executive one, raising the general level of discussion in the Parliament through deliberative methods, as well as greater involvement of the public/civil society organizations in the work of the Parliament.
More precisely, the topics for discussion are the following:
• Deliberation vs. poor debates in the Parliament
• The position of the opposition in the Parliament
• The Parliament as a mechanism for oversight and accountability of the executive branch
• The electoral system and the functionality of the Parliament
• Strong political parties – weak MPs?
The event is part of the project "Policy Discussions on Urgent Reform Priorities" implemented by ISSH-Skopje with the support of the National Endowment for Democracy. The main goal of the project is to enable, through a series of debates and consultations with the key stakeholders, easier understanding and implementation of the Urgent Reform Priorities outlined in the report by Mr. Reinhard Priebe.
A position paper on the systemic changes in the structure of the Parliament and the electoral system, produced by the ISSHS will be also presented at the event.
For confirming your attendance, please contact us on info@isshs.edu.mk or on the telephone number +389 (0) 2 113 059.