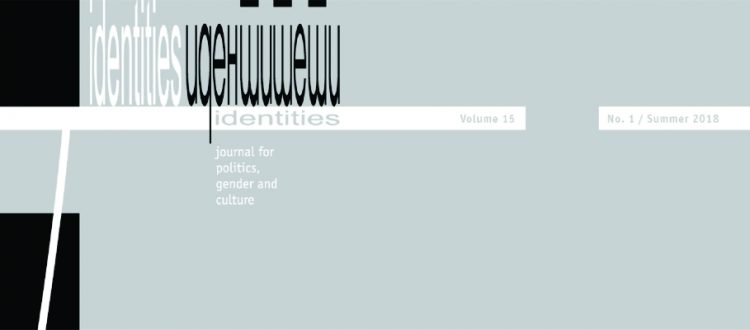 Available for Pre-order Identities Vol. 15, No 1-2
Identities: Journal for Gender, Politics and Culture Vol. 15, No. 1-2, Summer 2018
Release date: 2018
Publisher: Institute of Social Sciences and Humanities, Skopje
Price for a print copy: 18 euros (+ 6 euro for shipment)
How to order: To order a copy of any publication from our catalog, please, order directly with the Institute`s Press by way of bank order (wire) we can be done electronically from your home. Please contact us via email for detailed instructions concerning order placement and our banking information.
The e-version will be available free of charge as soon as the Journal's new web site is launched this autumn. The official release date will be announce soon.
Contents:
I. POLITICS
Davor Löffler: Distributing Potentiality. Post-capitalist Economies and the Generative Time Regime
Boyan Manchev: Clouds and Fronts. Onto-meteorology and Philosophical Fantastic
II. GENDERS/SEXUALITIES
Jules Joanne Gleeson, Jose Rosales and Andrew Culp: Love, Sex, Communism: A Discussion
Steph Schem Rogerson: The Idiosyncratic Archive: Queerness, Duration and Photography
III. CULTURE/NON-PHILOSOPHY
Gilles Grelet: "Tract(atus) 23: La théorie est attente." Notice | "Tract(atus) 23: Theory Is Waiting." A Note
Gilles Grelet: Tract(atus) 23: La théorie est attente | Tract(atus) 23: Theory Is Waiting | Tract(atus) 23: La teoría es espera | Tract(atus) 23: Theorie is wachten
Anne-Françoise Schmid: L'histoire de l'ONPhI n'est pas seulement une question de perspectives | ONPhI's History Is Not a Matter of Perspectives
Narciso Aksayam: Giving an Identity: Coordinates of Invention. Heresy and Dissidence Among Non-Philosophers
IV. DOSSIER: PIOTR SZCZĘSNY (1968-2017)
Piotr Szczęsny: Leaflet of October 19, 2017
Piotr Szczęsny: Letters to the Media of October 20, 2017
Bogna M. Konior: Media Intellectualism or Lived Catastrophe? Mediating and Suspending the A/political Act
V. REVIEWS
Paulo Ricardo Vidal: Towards Katerina Kolozova, Toward a Radical Metaphysics of Socialism: Marx and Laruelle | Para Katerina Kolozova, Toward a Radical Metaphysics of Socialism: Marx and Laruelle
Stanimir Panayotov: Towards Katherine Behar (Ed.), Object-Oriented Feminism
Senka Anastasova: Towards Jamie McCallum (Dir.), The Real Work