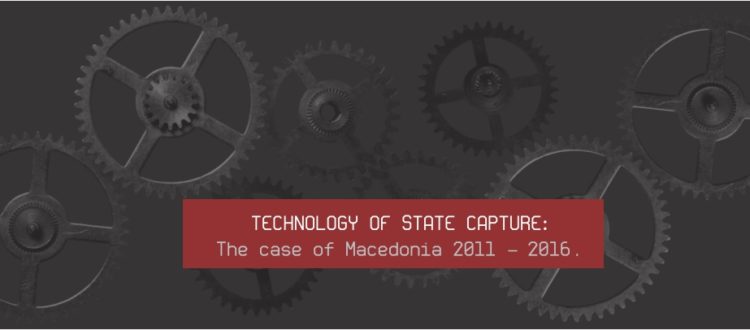 Invitation for Panel discussion
Date: 16th of June 2016
City: Skopje
Venue: European Union InfoCentre, Skopje
Organisation: Institute of Social Sciences and Humanities – Skopje
It is our great pleasure to invite you on 16th of June 2016 at 11 o'clock at the premises of EU InfoCentre in Skopje on a panel discussion on the topic of "Technology of state capture: The case of Macedonia 2011 – 2016." The speakers on the panel will be Katerina Kolozova (professor at ISSHS), Simonida Kacarska (European policy institute – EPI Skopje), Artan Sadikuv(professor at ISSHS) and Ana Blazeva (researcher at ISSHS). Introduction and moderation of the panel will be conducted by Jordan Shishovski (researcher at ISSHS).
In the introduction to the panel d-r Jordan Shishovski will present the policy study conducted by the researchers team of the ISSHS " Freedom of expression, association and entrepreneurship in a captured state: Macedonia in 2015" (the study was conducted with the support of USAID / FOSM). The study at hand is an analysis of laws and policies that restrict the freedom of expression and association in Republic of Macedonia. The main focus is on the areas of education, media, union association and strike, as well as on economic freedoms and their impact on small and medium sized enterprises. It also includes case studies providing in-depth analysis of the implementation of the regulations and the restrictive effects with respect to the forms of freedom subject to our investigation.
Agenda of the panel:
11:00-11:30 Registration and morning coffee
11:30-11.45 Opening remarks and introduction to the study: Freedom of expression, association and entrepreneurship in a captured state: Macedonia in 2015
Jordan Shishovski, researcher at the Institute of Social Sciences and Humanities – Skopje (ISSHS)
11:45-12:30 Panel moderated by Jordan Shishovski, ISSHS
Mechanisms of "state capture" and the rise of "illiberal democracies" in Europe: The Macedonian Case
Panelists:
Ana Blazeva, Researcher at ISSHS
Simonida Kacarska, European Policy Institute, Skopje
Katerina Kolozova, professor at ISSHS Skopje
Artan Sadiku, professor at ISSHS Skopje
12:30-13:00 Discussion
13:00-13:10 Summary and conclusions