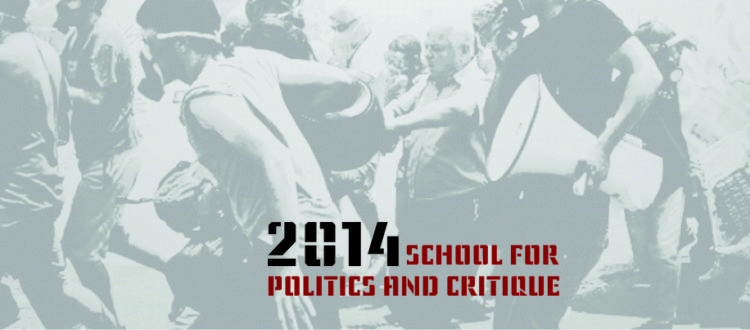 School for Politics and Critique
The Institute of Social Sciences and Humanities – Skopje in collaboration with the foundation Rosa Luxemburg Stiftung is proud to present the "School for Politics and Critique."
The "School for politics and critique" aims at strengthening the theoretical and practical skills of Macedonia's activists for the purpose to answer the challenges of the neoliberal policies that has come to over-dominate the political and everyday life.
The School will directly support the activists in the development of a sustained political rhetoric through providing substantial means for delivering socially and ideologically informed analysis and critique. The seminars will provide a space for strengthening of knowledge, discussions and exchange on key topics of Marxist theory and revolutionary praxis.
The School will be organized throughout 2014 and will be methodologically organized in two-day seminars that will take place during one weekend of each month except July and August.
To apply for participation in the "School for Politics and Critique" You should track send the following information at info@isshs.edu.mk:
Name and surname;
Short description (3 lines) on motivation for participation in the school;
Contact tel. e-mail;
The participation and materials for the School of Politics and Critique are free of charge.
The organization of the School of Politics and Critique is supported by the foundation Rosa Luxemburg Stiftung.
Below is a full list of all the seminars:
1. Introduction to the current context of the left in Europe; Richard Seymour – leftist writer, columnist and activist, UK;
2. Marxist theory as a tool for analysis and critique of neoliberal economy; Primož Krašovec – DPUSlovenia;
3. Strengthening of the socialist rhetoric in the fight against nationalism; Artan Sadiku – ISSH-S, Solidarnost, Macedonia;
4. Nationality without; French philosopher Jacques Ranciere;
5. How to build a socialist platform/initiative: towards a socialist manifesto and political mobilization; Anej Kosika and Luka Mesec – Initiative for democratic socialism, Slovenia;
6. Breaking the media blackout of the left: strategies for promulgating a leftists discourse in the media; Stipe Ćurković, Editor of Le Monde Diplomatique Croatian Edition and member of theCentar za radničke studije/Centre for Workers Studies, Croatia;
7. Allying the rising feminist discourse and the left in Macedonia; Katerina Kolozova – author, philosopher, activist, ISSH-S, Macedonia;
8. The road towards a historic bloc: reviving syndicalism and alliances with unions; Zdravko Savevski – Solidarnost; Tamara Causidis – Journalists Union, Macedonia;
9. Prospects for a left alternative for labor legislation; Dimitar Apasiev – Lenka, Macedonia;
10.Articulating a socialist demand for popular protest movements; Georgi Medarov – Haspel, Bulgaria;
11. Challenges of a radical left in the political process – Ludovikos Kotsonopulos – Nicos Poulantzas Institute and SYRIZA Greece;
12. Introduction to radical theory: (1) Foucault, Althusser, Deleuze; (2) Badiou, Butler, Negri; Maja Muhić – philosopher, writer, activist;
13. Economic crisis and political economy, Goran Musić – Crvena Kritika, Serbia.