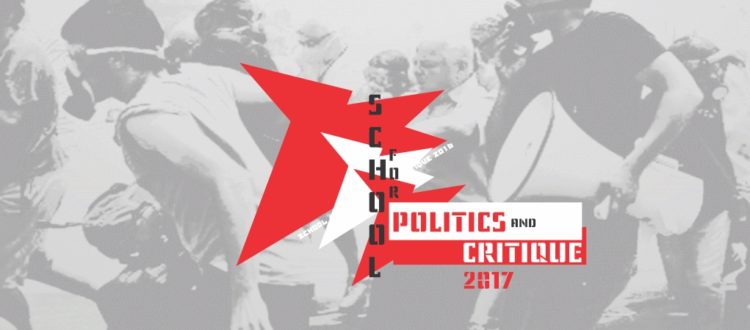 SCHOOL FOR POLITICS AND CRITIQUE 2017
The Institute of social sciences and humanities – Skopje, with the support from the Rosa Luxemburg Foundation is proud to announce the organizing of the School for politics and critique 2017 – "Regional Political Forum on Marxist Theory and Practice in the Southeast Europe" with the participation of the following speakers: Ray Brassier, Oxana Timofeeva, Agon Hamza and Katerina Kolozova.
"School for Politics and Critique 2017" is a summer school for activists and theorists of the Left from the region of Southeastern Europe. It will offer a five (5) full-day program of keynote lectures accompanied by panels and afternoon workshops. The general themes of this summer school are:
– Marxism of the 21st century,
– Feminism and Marxism,
– the rise of populism and "illiberal democracy" in Europe.
Other topics we expect to be covered under the presentations in the workshops are:
– left populism in Europe,
– European socialist strategies, social movements and new political parties of the Left,
– revisiting the concept of the "activist" for a post-Occupy era, and
– critique of the EU from an internationalist rather than nationalist perspective.
The keynote speakers at SPC2017 are Ray Brassier, Oxana Timofeeva, Agon Hamza and Katerina Kolozova. The two dominant and intersecting themes in the keynote contributions of Brassier, Timofeeva and Hamza will be the works of Marx and Hegel, whereas Kolozova will focus on Marx and feminist materialism including Braidotti and Irigaray.
25 participants from the region of Southeast Europe will be enrolled after being selected on the basis of an open call to be issued in the beginning of February 2017.
It will take place between June 26th-30th 2017 in Ohrid, Macedonia.
The school is organized by the Institute of Social Sciences and Humanities, Skopje with the support of the Rosa Luxemburg Foundation-Southeast Europe.
Contact:
Artan Sadiku, at
info@isshs.edu.mk
www.isshs.edu.mk
ul. "20 oktomvri" br. 8 floor 2
1000 Skopje, Macedonia
Phone/fax: +389 2 3113 059