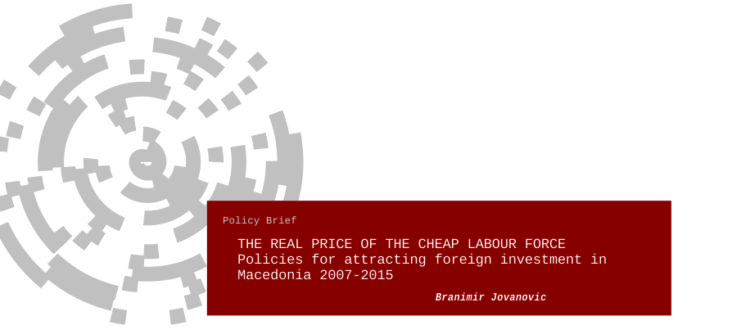 THE REAL PRICE OF THE CHEAP LABOUR FORCE
POLICY BRIEF
THE REAL PRICE OF THE CHEAP LABOUR FORCE
Policies for attracting foreign investment in Macedonia 2007-2015
Branimir Jovanovic
(Excerpt from the policy brief. You can find the entire document on the link below)
Between 2007 and 2015, Macedonia had five ministers for attracting foreign investments, the country was advertised in numerous media across the globe, the government organized around 60 road-shows in around 30 countries, 30 economic promoters were hired, special agency for foreign investments and export promotion was opened, as well as fifteen technological industrial development zones.
Foreign companies that invested in Macedonia were released from paying utility expenses, custom duties and taxes; they were receiving up to 500.000 euros for building their plants; 50% of their costs for education and training of workers was covered by the government; the government was also giving them up to 70% of the total investment they have made or up to 70% of the wages they have paid for the new employments in the first 2 years.
How much money the state spent on all these policies remains unknown. That is what this study is trying to estimate. In addition, it tries to evaluate the direct effects of these policies, alongside the working conditions and the labour rights in the foreign companies that received state support.
THE REAL PRICE OF THE CHEAP LABOUR FORCE Policies for attracting foreign investment in Macedonia 2007-2015