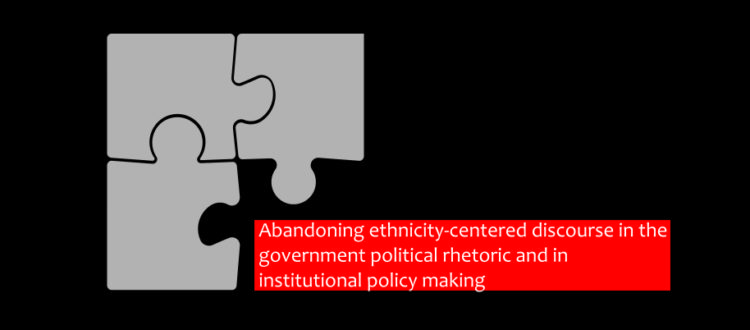 Ethnicity-centered discourse
"ABANDONING ETHNICITY-CENTERED DISCOURSE IN THE GOVERNMENT POLITICAL RHETORIC AND IN INSTITUTIONAL
POLICY MAKING"
The analysis conducted by the Institute of Social Sciences and Humanities – Skopje targeted the ethnic model of governing and ethnic modeling of social, educational, economic and cultural policies and to inaugurate novel political ideas of solidarity beyond ethnicity.
The analysis consisted of desk analysis of policy decisions in the last 2 years of government institutions, analysis of crucial laws, media analysis on public political discourse, and analysis of political rhetoric and communication of political leaders in the country.
The policy brief resulting from the process of research and analysis outlines the arguments and political rationale for abandoning ethnic discourse in the government political rhetoric and the institutional policy functioning.
The aim of the three panels is to reflect through discussion on the outcomes of the research and analysis on the ethnic determination of government and policy making processes in Macedonia, through an open and direct exchange in local level with policy practitioners and citizens in three Macedonian cities, Bitola, Tetovo and Stip. The decision on these cities was taken in line with our commitment to decentralize and spread the debate on policy issues throughout the country and receive feedback on the effects of the policies decided on central level.
Panels:
Tetovo
Topic: Protracted arguments of the 2001 conflict in policy making today
Invited panelists:
Ramadan Ramadani – columnist and media analyst
Boro Kitanovski – civil society activist and expert on reconciliation
Stip
Topic: Ethnic division in the central level affecting policies in local level
Invited panelists:
Boris Sarkoski – civil society activist
Igor Jovanovski – policy expert, researcher and professor
Bitola
Topic: Building social solidarity to confront ethnic policy making
Invited panelists:
Goran Janev – intercultural policy expert, researcher and professor
Aleks Bukarski – political analyst and publicist
The feedback for the panels will be used for refining the final policy brief which will be presented in a public event at the ISSH-S by way of a focused argumentation of the rationale and political significance of the proposals as well as concrete interventions in the policy level of relevant actors.