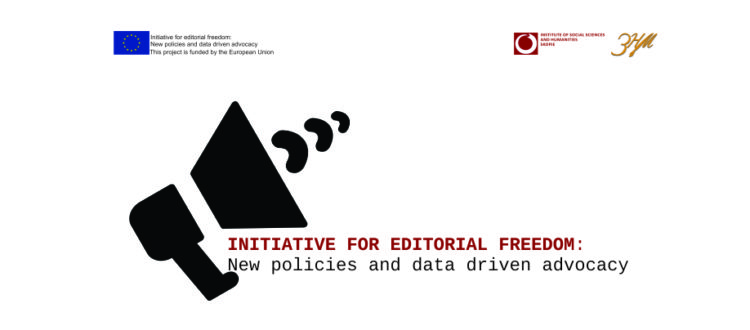 INITIATIVE FOR EDITORIAL FREEDOM: NEW POLICIES AND DATA DRIVEN ADVOCACY
The Institute of Social Sciences and Humanities – Skopje in partnership with Association of Journalists of Macedonia (AJM) since February 2017 is implementing the project: Initiative for editorial freedom: New policies and data driven advocacy. The Overall objective of the project is to assess the policy effects on editorial freedom resulting from program regulations in the Law on Audio and Audiovisual Services and create data driven advocacy for proposed policy solutions.
One of the specific objectives is to produce a comprehensive regulatory impact assessment of the policies prescribed by the Law and implemented by the national regulatory body with focus on its effects on the freedom of expression, i.e., editorial freedom created by programmatic legal overregulation.
The project will also address the lack of effective dialogue trough building consultation mechanisms among with key stakeholders for introducing policy interventions on issues concerning regulation of media and freedom of expression in terms of policies. Data driven advocacy campaign will aim to explain and convince the stakeholders and the general public in the adequacy and relevance of the policy interventions proposed as a result of the assessment.
In addition, the project will work on strengthening the capacity of grass-root and formal civic initiatives in the area of the freedom of expression in the media through for policy oriented research and the use of data in advocacy (data driven advocacy).
The project is implemented under the program Civil Society Facility under the Instrument For Pre-Accession Assistance (IPA II).