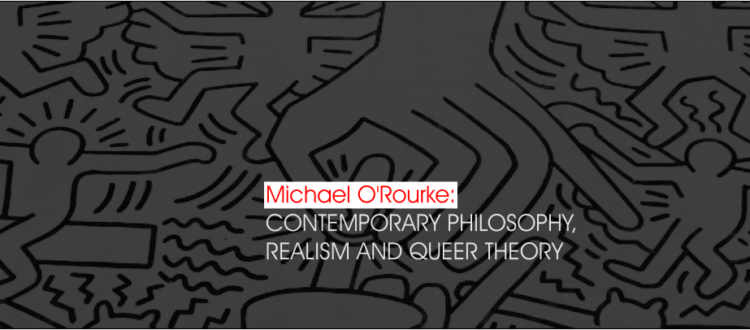 Michael O'Rourke: Contemporary philosophy, realism and queer theory
The Institute of Social Sciences and Humanities – Skopje invites you to the open lectures by one of the most interesting thinkers of the new forms of realism and queer theory today, Michael O'Rourke.
The topics cover interdisciplinary intersection of the fields of philosophy, queer and gender studies, epistemological issues related to the new forms of realism.
Michael O'Rourke is a visiting professor at ISSHS, Dublin Independent Colleges, GCAS and others. He is an author of Queer Insists (Brooklyn NY: Punctum Books, 2014), which appeared on the list of 101 important books in the field of critical theory published by http://www.critical-theory.com/88-critical-theory-books-th…/
The lectures followed by interactive workshops will be held on Thursday and Friday at 18 o'clock and on Saturday at 17 o'clock at the Institute of Social Sciences and Humanities – Skopje (location http://goo.gl/XOuCga).
The lectures will be in English.
Thursday, January 22, 18 o`clock
"Derrida and Queer Theory, Etc"
—
Michel Foucault's influence on the emergence of Queer Theory has been immensely important and exhaustively acknowledged. He has even been canonized as a patron saint of queer thinking (in David Halperin's Saint Foucault for example). An alternative genealogy has been sought in the writings of Gilles Deleuze and Félix Guattari and this too has contributed to some of the most crucial developments in the field. However, alternative trajectories can be argued for even in the reception of Foucault (for example, looking to works other than the three volumes of The History of Sexuality) and of Deleuze and Guattari (by attending to "minor" works by both rather than or alongside Anti-Oedipus and A Thousand Plateaus). In this lecture, however, I will make a case for Jacques Derrida's corpus as one such alternative genealogy and lineage for queer theory. Beginning with a reading of his text "Etc" this lecture will trace the "foundational" influence of Derridean ideas on early (1990s) queer scholarship, address moments across his work which can shape a reimagination of queer theories, and suggest what a Derridean queer theory of the future might look like.
Friday, January 23, 18 o`clock
"To Speculate— On Queer Theory"
—
The potential enmeshments of queer theory and Speculative Realism (or rather queer theories and speculative realisms) have barely begun to be sketched out. The speculative realists have been particularly keen to engage with feminist, gender, queer and sexuality studies but this openness has gone for the most part unreciprocated. Indeed, many leading feminists and queer theorists have dismissed speculative realism (and especially its sub-branch Object Oriented Ontology) a priori making the conversation not only fraught but impossible. This paper will introduce speculative realism to the uninitiated, consider some of the potentially productive intersections between the many realisms and queer theories and pay a more generously motivated attention to the possible criticisms of the gender politics of speculative realism. Speculative Realism is better understood as a plurality of positions covering the widest possible spectrum of thought: continental realism, accelerationism, post-continental thought, weird fiction, Object Oriented Ontology, posthumanism, new materialisms, transcendental materialism, actor network theory, non-philosophy, eliminativism, dark vitalism, assemblage theory, black metal theory, process philosophy, transcendental nihilism, phenomenology. The list could go on but this lecture will limit its ambitions to gesturing at the vibrations and connections between current queer thought and just some of this long list of positions.
Saturday, January 24, 17 o`clock
"Belle Knox and the Making of the Indebted Woman"
—
This talk looks at the writings of the now (in)famous porn star and Duke University Law and Women's Studies student Belle Knox/Miriam Weeks on strata of sex work and what she calls "hierarchies of whoreification". I will consider how Knox updates Gayle Rubin's "charmed circle" of good/bad sex which was so influential on the developments of sexuality studies, gender studies and queer theory and what Knox's contribution to feminist theory might mean for the futures of feminist and queer thought around key issues such as sex, work, precarity, dispossession and heteronormativity. In particular I will situate Knox's writing in terms of recent work on immaterial labor and debt in what Beatriz Preciado has dubbed "the pharmacopornographic era".
Michael O'Rourke is a visiting lecturer in the Faculty of Gender Studies, Institute of Social Sciences and Humanities, Skopje, Macedonia (https://www.isshs.edu.mk/). He has published extensively in the areas of Queer Theory, Deconstruction, Speculative Realism, Object Oriented Ontology, Psychoanalysis, Gender and Sexuality Studies, Feminist Theory. Some of those writings can be accessed here: https://isshs.academia.edu/MichaelORourke